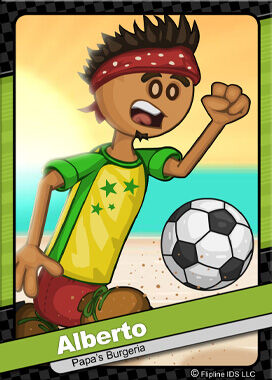 Alberto is a Brazilian-American who first appeared at Papa's Burgeria. He is a playable chef in Papa's Freezeria with his girlfriend Penny. In Papa's Next Chefs, he defeated Roy in round 1 but he lost to Carlo Romano.
Alberto wears a yellow and green shirt with green stars and red pants. He has spiky brunette hair with a red bandana. He has a short goatee. His shoes are brown with green laces.
His burger - Bottom Bun, BBQ Sauce, Onion, Medium Patty, Cheese, Medium Patty, Cheese, Tomato, Top Bun
His taco - Hard Tacoshell, Pork, White Rice, Brown Rice, White Rice, Black Beans, and Loco Mystery Sauce
His sundae - Small cup (Medium if locked), Strawberries, Chocolate Syrup, Regular Blend, Whipped Cream, Strawberry Syrup, Banana (left), Cherry (middle), Banana (right)
His breakfast - 2 pecan waffles, powdered sugar, 3x bananas, 3x strawberries, raspberries. Drink: Orange Juice (small) with ice
His wings - 4 calypso wings, 8 celeries, and mango chili dip
His hot dog - Italian Sausage, Chicago Bun, Chili, Sauerkraut, Tomato, Sport Pepper, Tomato, Bacon. Soda: Medium Dr. Cherry. Popcorn: Large Cinnamon Swirl
Starlight Jubilee - 88
Community content is available under
CC-BY-SA
unless otherwise noted.