Greg  is a boy who is normally childish and loves tomatoes. He works for Cletus as a scrapyard worker at Cletus' scrapyard. His best friend is Nick (once bullied him during the events of Papa's Taco Mia!), and his other friends are Sarge Fan!, Utah (girlfriend), Yippy, Clover, Lisa and Xandra (sometimes). He is the leader of the Kid Brigade. He first appeared in the original Papa Louie game.
Date Birth: February 13, 2004
Age: 17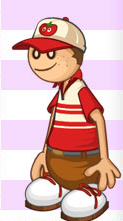 Family
[
]
Mary (mother)
James (father)
Cooper (second brother)
Robby (older brother)
Peggy (second sister)
Skyler (older sister)
Ivy ( Cousin)
Friends
[
]
Utah (girlfriend and sometimes In Freezeria To Go!)
Xandra (formely)
Xolo (formely)
Radlynn
Robby
Gremmie
LePete
==Favorite foods==
His pizza: 6 pepperoni, 4 mushrooms, 30 minutes, 4 pieces
His burger: Bottom Bun, 2x Pickle, 2x Tomato, Well-Done Patty, Mustard, Top Bun
His taco: Hard Taco, beef, tomatoes, cheese, tomatoes, mild sauce, tomatoes
His breakfast: 3 Chocolate Chips Waffles, Whipped Cream, Chocolate Chips. Drink: Orange Juice (small) with Ice
His wings: 8 BBQ Wings, 4 red peppers, & ranch dip
His hot dog: regular bun, hot dog, salsa, 3 tomato wedges, ketchup, Tangerine Pop (Large) & Cotton Puffs (Large) 
​Appearance
[
]
In Papa Louie, he have hat blue and red as Roy. In Pizzeria and Burgeria, he have the hat red and white.When Papa's Taco Mia was introduced your hat is red and white with a tomato. 
Filpdeck
[
]
23