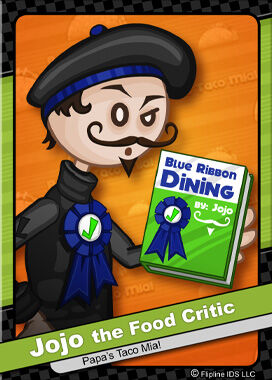 Jojo is the food critic who first apperiance is in Papa's Taco Mia! He is a closer and has been one since his first appearanc and is the last one to first appear in a gameria after all the other closers.
Date Birth: August 26, 1982
Age: 36
Jojo wears a black coat with a blue ribbon and blue pants and a black beret.  His appearance resembles a french man. 
Kingsley (sometimes)
Kahuna (Hate In Wingeria And Hot Doggeria
Xandra (Hate In Papa's Bakeria)
In Frezzeria,Pancakeria  and Wingeria  when looking in characters panel there are food favourites listed for him, which changes.However , for Taco Mia and Hot Doggeria and games afterwards,it's listed that he orders something different.
He is the Leader of the closers in the parades. 
Altrough he does not appear in Papa Louie 2, his Blue Ribbon makes an appearance as the checkpoints marker.
Along with Quinn, he has been a closer even since closers have been introduced.
Have one mistake in Papa's Freezeria ,Papa's Pancakeria and Papa's Wingeria in orders favorites talk that only have one order, in Papa's Hot Doggeria talk diferent every time and also in Taco Mia says that he trying evrerytime. 
Jojo is known far and wide a premier food critic.He is an adventurous foodie that never orders the same meal twice.Jojo makes weekly stops at restaurants to sample their food.If he enjoys his meal He will award the shop his Blue Ribbon. Costumers always tip more a Blue Ribbon is in sight.   
Community content is available under
CC-BY-SA
unless otherwise noted.