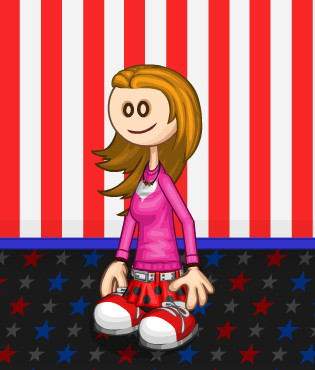 Monica is sweet 16-years old girl wearing pink shirt with heart and red skirt with black dots. Monica is younges member of her family. She's big fan of Lara Croft or Super Mario Bros. Her favourite food is strawberry gum. Her sister is Kate, she has got Burgerzilla and Monica wants one too, and she has got Bacoburn and three little bacobites, it hasn't any name.
Family
[
]
Kate (Older 22-years old sister)
Christine (Older 28-years old sister)
Andrea (Older 25-years old sister)
Andrew (Older 29-years old brother)
George (Older 19-years old brother)
Appearance
[
]
Monica first appearance in next Papa Louie game after Papa's Donuteria. She has got classic wearing and behind she is Bacoburn and 3 bacobites. I try to add Monica to next Papa Louie game.